Physical therapy is the treatment of disease, injury, or deformity by physical methods such as massage, heat treatment, and exercise rather than by drugs or surgery.Our patients work with our licensed Physical Therapist, James Lindsey, LPT.We work with your medical doctor and obtain a referral if necessary. Our physical therapy services are often integrated with chiropractic care to promote faster healing and decreased pain.
Come see how physical therapy could change your life!
The ONLY Chiropractic & Physical Therapy Integrated Office in Asheville!
Our clinic services support patients in an interdisciplinary approach utilizing a Licensed PT to enhance each person's rehabilitation experience. We offer a unique one on one approach to physical therapy, where you will see the same therapist on each visit.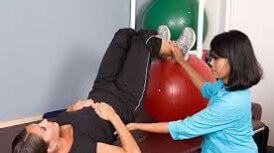 Physical therapy is a scientific based process utilizing a variety of procedures which aid the restoration of normal body functions, reduce pain and help in preventing future injuries. Our professional therapist will devise a specific program based on the examination, analysis, and diagnosis of each patient. Once goals are established various modalities may be used in treatment to include electrical stimulation, traction, ultrasound, vibrational plates, therapeutic exercise, massage, and manual therapy.
Individuals experiencing elevated stress levels, especially chronic stress. Also, those who have experienced traumatic injury related to occupation, weight lifting physical labor, sports, or accidents recently or in the past would benefit from massage. Often individuals performing repetitive motion or having poor body mechanics resulting in pain might appropriately seek a neuromuscular massage for healing and muscle re-education. Alongside physical therapy, neuromuscular massage improves the muscle's response to appropriate stretching and exercise. Massage therapy works to enable the body's natural ability to heal itself.
Our med gym was created in response to our clients expressed need to continue their post rehab exercise programs in a familiar and safe environment. We use equipment that is recommended and supported by the Arthritis Foundation. Here a licensed Physical Therapist will develop an exercise program focused on your needs including cardiovascular endurance, muscular endurance/strength, range of motion , hand eye coordination, balance, agility, posture, and core strength. No matter your age, Physical Therapists are the health care professionals to trust for professional attention to your exercise goals, needs, and safety.
Orthopedic rehabilitation
Our professional team works with all joint replacement patients. We help each individual to regain strength and mobility in the affected area.
Working with your referring physician our therapist will design a program bases on your physician's diagnosis and a patients specific needs. Treated conditions are arthritis, nerve or tendon injuries, carpal tunnel syndrome, range of motion, strengthening and many other problems of the hand.
Our therapist will analyze and determine the cause of the pain utilizing your physician's input and assess the best procedures for treatment. In addition, and educational element in included to the patient can better understand the structure of the body and can work to prevent future injury.
Vestibular rehabilitation
Individuals suffering from dizziness, vertigo, imbalance or other inner ear disorders can benefit from our therapists special training. Vestibular rehabilitation is a non-invasive, drug free process for dealing with dizziness or balance problems.
Neurological rehabilitation
We provide a multi-disciplinary approach to neurological conditions needing rehabilitation. The retraining of muscle and sensory body areas, coordination activities, and range of motion are just some of the therapist focus.
An aging body has special needs and procedures to maintain functional health and we are committed to that understanding. We provide our patients with ongoing information to maintain good health and mobility.
Are you ready to make a change?
Request your free consultation today!